Jesus said to Peter "feed my sheep." In this spirit, the Agape Center was established many years ago by saints who have gone on before us. We try to fill their shoes and carry on the ministry, providing food and clothing for those who come to our center. No referral is required. We do request your name and address for our files. This information is not shared.
Location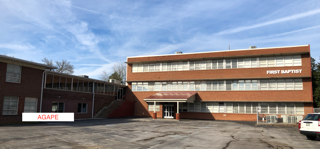 See the FBC building map for a detailed view of the church complex, showing the Agape Center entrance at the bottom, near the lower parking lot.
Hours
The Agape Center is open every Thursday (except holidays and the week after Christmas) from 1:30 to 4:00 p.m.
Groceries
The Agape Help Center provides a bag of groceries to approximately 40 households each Thursday. Items in the bag may  include spaghetti noodles and sauce, beef stew, canned tuna, macaroni and cheese, canned fruit, canned corn, canned beans, bread, eggs, cereal, peanut butter, and ramen noodles. Clients may receive groceries once per calendar  month.
Clothes
Our clothes closet contains an assortment of clean men's, women's, and children's clothes in a variety of sizes. Clients may browse the racks and shelves to select needed clothing and accessories.
Donations
Donations of food and cothing are always welcome. Donated food should be non-perishable (canned, bagged or boxed) that has not passed its expiration date.
Donated clothes should be clean and in good repair. Items in constant demand include coats and sweaters, pants, pajamas, underwear, and socks.
Food and clothing donations may be dropped off at the Center on Thursdays between 1:00 and 4:00 p.m. Donations can also be dropped off at the church office Monday through Thursday between 8:00 a.m. and 5:00 p.m. (See contact information at the bottom of this page.) Also, donated items can be placed in the white donation boxes in the foyer and at the downstairs entrance during Sunday services.

The Agape Help Center depends on financial donations to continue its ministry to those in need in the Oak Ridge area. Virtually all groceries distributed are purchased from local grocery stores. Thanks to our generous donors, we have been able to supply adequate food staples to our clients. Please consider supporting our efforts financially.

Volunteering
Thanks to a group of dedicated volunteers, the Agape Center can serve 40 or more clients per week. However, new volunteers are always welcome. We're always looking for volunteers in the clothes closet to sort and fold clothes and to help clients find clothes. We also welcome volunteers to pack grocery bags, shop for food, stock the shelves, and help clients get their groceries to their cars.
Agape is the love between God and man – the love of Jesus that we are to share with the world -Jesus' Great Commission. In the spirit of this commission, we operate the Agape Center to help families in need.